Podium Microphones
Podium Microphone - Countryman- noise cancelling
About this podium microphone - Countryman – noise cancelling:
We tested every podium microphone we could get our hands on and found this to be the best by far.
Like noise- cancelling headphones, but in a microphone. This means you don't need a shock mount.

More about this podium microphone:
They are made in the USA.
We sell them at the price we get them for. We are the main purchaser of this type of microphone in Australia, so we get them at a great price (they are normally $600.) You really only need one microphone. The purpose of 2 sockets is to have a spare one for back up. We find that this is the best microphone to use with our lecterns. Because you can bend it, you can adjust it closer or further away. The noise reduction is superb. A note to customers based in the USA - this microphone is made in the USA, so you may be able to source it locally, at a great price.
Podium Microphone - Countryman- noise cancelling

Freight
Freight Prices
| | | |
| --- | --- | --- |
| | To NZ | To NZ-Express |
| $0-100 total order | NZD $50 | NZD $75 |
| $100-500 total order | NZD $70 | NZD $90 |
| $500+ total order | NZD $100 | NZD $150 |
Freight Times
| | |
| --- | --- |
| | To NZ |
| Standard air freight | 4-7 days |
| Express air freight | 2-4 days |
- Orders are sent every Tuesday and Friday. This will affect the freight time.
For example, if you order on a Friday afternoon, your order may not go out until the following Tuesday.
- NZ customs is normally very quick, but it may occasionally take extra time to clear customs.
- Freight times are a guide only. Actual times may vary.

You might be interested in...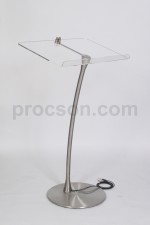 About this pulpit with microphone:

This is the Arc2 pulpit for sale with minimalist microphone mounts.
The mounts allow you to have one or two microphones or a microphone and a light. It took us 5 years of trying different solutions to find the...