Modern Church Pulpit Testimonials

References
This page is full of testimonials from our customers. Please have a look through the comments and feedback from some of our customers:
"Purchasing the New Arc 3 Podium and Water Table was a wise investment for His Vineyard Church. They provide such a clean look and maintain all that practicality offers. The folks at Procson always go the second mile in helping you get what best suits your situation. I wholeheartedly recommend that you contact them today and get your order so that you can soon begin using what they provide."
Keith Kelly, Greer, South Carolina, USA.
www.hisvineyard.com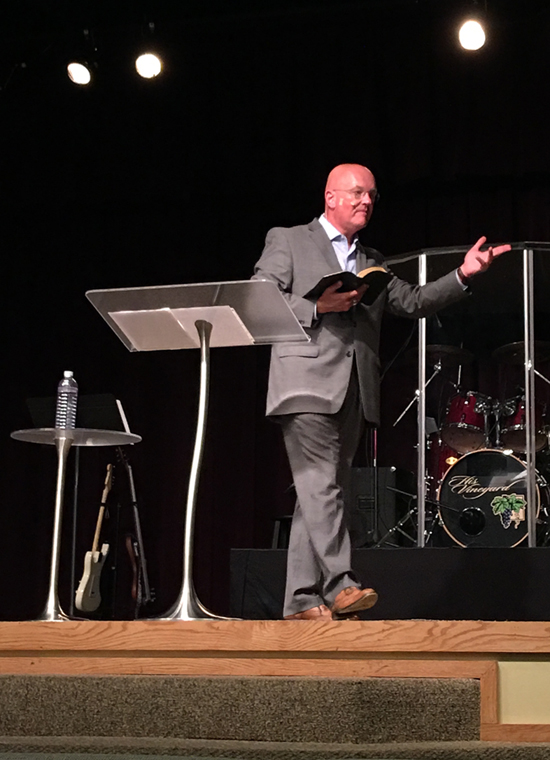 "Hi Stephen, thanks for a amazing podium! I've just wanted to send a picture so you can see how it looks in our C3 Church :)"
Carl Fredrik Ness, C3 Norway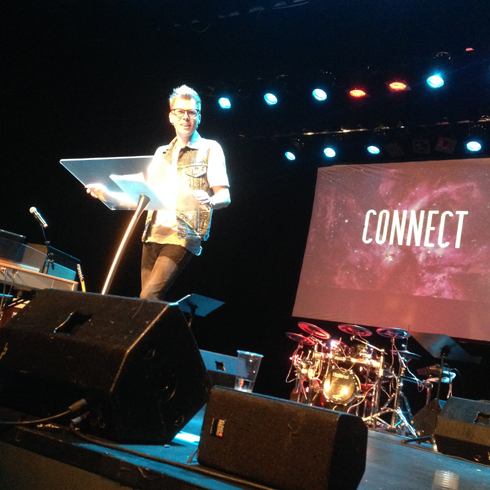 "Hi Mike, I just wanted to say another huge thank you for the Adjustable Lectern. We have been using it now for the last 9 months and it is our go-to lectern! Its wonderful to have something so flexible that helps us in our services and is easy to move on and off stage, move around the building as we experiment with different service types. And on top of that, it looks stunning and is such a pleasure to look at! Fantastic engineering to accommodate our taller and shorter speakers all in one swift movement!? Thanks so much, Pete"
Pete Willmot, St Pauls, Hammersmith, UK
"Thank you for your order! You all are by far the BEST folks to work with EVER. Your customer service is outstanding! I would not hesitate to recommend your company. In fact, one of our pastors said he loved the trays and would plan to order them for our new campus someday. Thanks again for everything! We appreciate your kindness and professional service.
Sincerely, Connie."
Connie Krueger,
www.chaseoaks.org
"I was in the midst of getting some designs done up for a modern, contemporary lectern and my search ended when I stumbled upon Proscon's website. I was completely taken in by what I thought was the coolest lectern ever! The design is simple, yet modern and contemporary, somewhat like the Philip Stark of lecterns! I absolutely love it (as well as my members) and it is wide enough to hold my bible and all my notes while preaching. I will recommend the purchase of this lectern from Proscon, as the service before and after sales has been excellent and the price paid for the quality and workmanship rendered has made this lectern value for money."
Ps Simon Ang Moriah, Assembly of God, Singapore
www.antioch.com.sg/sg/maog/
"Happy customer...Thank you Mr Steve. God bless you."
Samuel Gomez, Florida, USA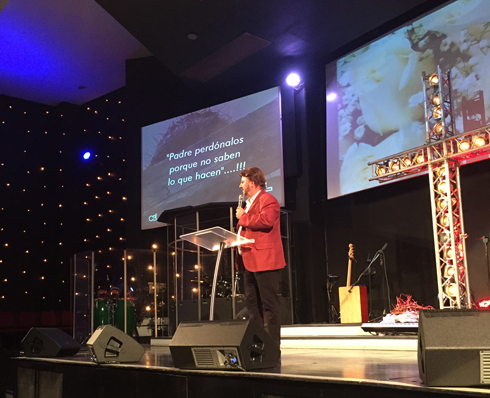 "Hey Stephen, Just wanted to say thank you. We just got your pulpit and side table (very quick shipping) and they are stunning. Exactly what we were looking for. Thanks again and all the best!"
Justin Zinck, Rock Church Lower Sackville, NS, Canada,
www.rockchurch.ca
"Thanks Mike for supplying the amazing Arc lectern! It's stunning and as you said so easy to assemble and transport. The size is perfect without seeming oversized. At the moment it looks great in my dining room! I'm sure that the Pastor, Trustees and congregation will agree when it's officially commissioned. Many thanks."
Ann For Sonrise Church, UK,
www.sonrisechurch.org.uk
"Hi Stephen, I just received the pulpit, thank you so much! I don't how you guys were able to get it me so quickly, were are very happy with the pulpit. Again thank you for a wonderful and excellent service. Definitely will recommend it to our friends and pastors."
Jossy Galvan, Independence, MO, USA
"We received the shipment on Tuesday. Thanks guys! looks great!!!!!"
Jonathan Manna, Associate Pastor, North York, ON, USA
"Stephen, Thank you again for all of your help. My customer is loving their purchase."
Christine Walker, Boston, MA, USA
"Hi Steve, the products arrived on Friday and we used them yesterday. BRILLIANT. They look so good and we are very impressed with the new weight reduction and more stable pulpit. Thank you for making such a quality product. Much appreciated."
Ps. George Salloum, Citipointe Church, QLD, Australia
"The podium arrived yesterday afternoon! :) Our custodian assembled it and we think it is great! Pastor Doug is looking forward to using it this Sunday. Thanks again for all of your help, Stephen, and we wish all of you a very Merry Christmas!"
Julie Todd, Summit Evangelical Free Church. Alta, IA,
www.summitefc.com
"Hello, Stephen! We have received our new pulpit and love it. Again, thank you so much for your kindness regarding the cover. I have passed the communion tray around to give everyone a good look at it and we are considering purchasing a number of those in the near future. It was a pleasure communicating with you and ordering from your company. I hope to be in touch again soon!"
Traci Hammonds, Golden Triangle Church on the Rock, TX, USA,
www.cotr.com
"We recently purchased a Procson Arc Podium for our Pastor for Pastor Appreciation Month. We just presented this to him on Sunday, Oct 5th and he was absolutely surprised and delighted."
Pam Carter, Maranatha Christian, TX, USA
"Just wanted to let you know that we received our podium and used it for the first time this past Sunday. We absolutely love it!! Was so much lighter to move around for our team. Thanks so much!"
Sunny Kane, The C3 Church, NC, USA,
www.c3church.com
"It is wonderful to know that there are people who think the kingdom of God in the time to develop their gifts, and create brilliant pieces such as pulpit and this table."
Marcos Andrade, Pastor, Igreja Presbiteriana Renovada (Presbyterian Church Renewed), Aracaju, Sergipe, Brazil.
www.vidarenovada.com.br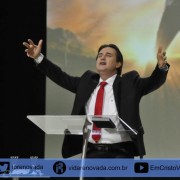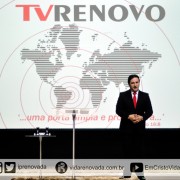 "They arrived!!!!!!! We just built them in the office - we love it! Thank you!"
Pastor Shea Riley, Canada,
www.harvestcitychurch.com
"We have just received the pulpit and table and have set it up. We're very happy with it!"
Pr Fiona Voortman, The Source Church, Stirling, SA,
www.thesourcechurch.com.au
"Thanks very much for the excellent speed of delivery and good quality product. We are very pleased."
Stephen Balderston, London, UK
"Hey Stephen, I just wanted to give you a big Family Church "thank you"! We really appreciate you getting the communion trays sent out to us in such short time. They look great, feel great & are very cool. Thanks again!"
Marc Ibarra, Family Church, CA, USA,
www.familychurch.co
m
"We received the podium today! The assembly was easy and our senior pastor loves it. I appreciate your prompt service!! Thanks, Donna"
Donna McKee, TX, USA,
www.fumchurst.org
"Thank you very much. I thought the process of obtaining this product was going to be tougher - but you all have this figured out quite nicely. Thank your for making this process really smooth. Steve, thanks again for your help."
David Sovereign, Customer Support, IL USA
"Hi Stephen - Just wanted to let you know that the lectern was a great hit. Everyone loved it. Thank you again for your quick response and awesome product."
Michelle Weerakoon, Docklands VIC, Australia
"Steve here is our new pulpit, great spend ;)"
Rosa González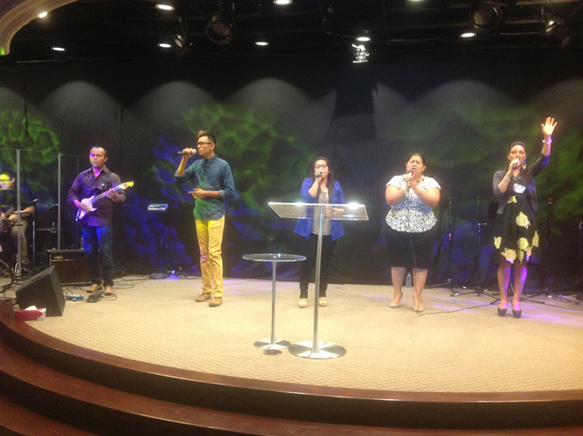 "Hello Stephen,I was writing to let you know we received the covers for the lectern and table. I would also like to thank you for your prompt and precise service, it is exceptional and I am impressed. Jesus house Dallas is truly grateful, and May Our Lord Jesus Christ continually bless and prosper your business, and may your entire family and workers find favor in the sight of Our Lord. Lekan"
Lekan Olatunji, Jesus House Dallas, TX, USA,
www.jesushousedallas.org
"Good Afternoon, I am the design director of Grace Family Church, in Lutz, FL, USA. We purchased an Arc podium from your company two years ago and absolutely love it. I would like to purchase two more for our new campuses."
Sharon DiStefano, Grace Family Church, Florida, USA, www.gfconline.com
http://www.gfconline.com
"Hi Steve, I just placed the order for the Communion Trays. They look great! Your creativity makes a difference!"
Pastor Manuel Lozano, Word of Faith Family Church, Racine, WI, USA
"We received them yesterday. Thank you for a great product and for even better service! The trays are very smart and chic. Thanks, John"
John, RiverLife Chapel, Singapore
"The podium is fantastic - looks great and will be perfect for what we need." Ruth Staggs, Compass Church, CA, USA
"G'day Stephen, Apologies for not letting you know earlier how great the pulpit looks! It arrived Wednesday and we used it this morning - I meant to take a photo to show how good it looked. Anyway, thanks for a great product, fantastic service and the free communion tray!"
Andrew Mercer, Sustaining Word.
"Hi, I would like to order the Preachers Table (Tall Table). We already own the Arc Church Podium and Table and love them! Thank you so much!
Carol Essex, The City Church, San Diego, USA,
http://thecitysd.org
"We have received the order, assembled it and very pleased with the quality and appearance."
Lonnie Hilton, Fauth Christian Fellowship,
www.fcf.org
"Hi Stephen, I would like to thank you for the podium and side table. We have received this through TNT. The Senior Pastor picked up the package and was surprised how small it was. He thought it would have been a larger package and he was surprised that at the pick up office, a woman carried it in one hand. The youth leaders were so excited at getting a new trendy podium that they wanted to put it together. And we used the podium and table on Sunday evening service (last night). It looked very slick. So thank you for arranging this for us. Much appreciated."
Andrew McLean, Canberra, Australia
"Thanks for the great product! We love it."
Paul VanDyke, Central Wesleyan Church, Holland, MI
"Hi Steve, Finally opened the box with the preacher tables. Everything is fine. Pastor loves them. I have a feeling you will hear from us more than you'll like. Thanks for the communion tray, it is beautiful. We are definitely considering them. BLESSINGS!"
Belinda A. Robertson,
www.myRBConline.org
, TX, USA
"Stephen, Just got our new pulpit today and just let me say...SPECTACULAR! It's simple, elegant, modern, and classic. Thank you for such a wonderful product."
Bob Snell, Central Baptist Church, Jonesboro, AR, USA
"Hi Stephen, Just wanted to let you know that the podium/pulpit is set up and looks great! We love it!" Kim Hatton, GA, USA
"Thanks again, Stephen. We're very happy with the pulpit."
Mike Chapman, BC, Canada,
www.clachurch.com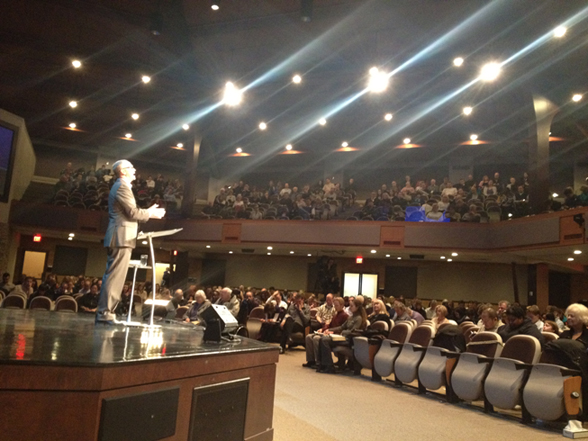 "Received and love it! Thanks."
Greg, Canada
"Hello Stephen, we've greatly enjoyed using the Arc Podium. It has fit in perfectly with our overall stage and set designs. Thanks for putting it out there!"
Andrew Stone, Production Manager, CHURCH ON THE MOVE/williegeorgeministries, Tulsa, OK, USA
"Thanks Stephen, received in good order, assembled and looking great. Beautiful piece of equipment"
Rev Shane Rogerson, St Matthews, Prahran VIC,
www.stmatts.com.au
"Thank you so much for getting the lectern to us so promptly. It looks tremendous and for that we want to thank you. Bless you Stephen and all of your team there."

Ps Phil and Sue Ayres and the members of Mandurah Christian Life Centre, WA (venue of the Western Australia AOG state conference)
"We are still enjoying our new Arc pulpit immensely - it really sets off our stage and receives many positive comments."

Ps Graeme Harrison, Music and Worship pastor, Oakden Baptist Church, Adelaide, SA, Australia ,
www.oakdenbaptist.org.au
"My husband preached from the pulpit at Hillsong and Garden City and loved it, so we had to get one! More churches in America need to take cues from Aussies! Your churches are modern and attractive. We love getting ideas from your country. Thank you for giving churches a great product and a very "cool" option in a sea of old-fashioned church pulpits!"
Ps Benny & Wendy Perez Senior Pastors, The Church at South Las Vegas, Las Vegas, USA,
www.thechurchlv.com
"The pulpit and table are absolutely beautiful. The construction is first-class and the style is "cutting edge"! The pulpit and table function well for us. The size and heights of each piece are comfortable. The larger sized top that we purchased for the pulpit is a nice size to accommodate notes, Bible, laptop, etc. We have received many compliments on the pulpit and table like: "unique, classy, clean-look." Everyone notices it immediately as being unique in its style. We love that!. When you consider the quality of the product, service provided by Stephen and Procson, and the beauty of the piece, it is a great value!"
Ps Jeff Hennigan, Senior Pastor, Abundant Life Church, Plano, Texas, USA,
www.alcplano.org
"The pulpit is awesome!! My pastor just loves it. It fits our church stylistically and is light and easy to move. Thanks."
Ps Kevin Parker, Pastor of Media Ministries, Church On The Hill ,California, USA,
www.churchonthehill.com
"We are a church that has a heart to reach the next generation, and it is important for us to reflect that in everything we do including our stage design and props. In the arc pulpit, we have found a pulpit that's both cool and functional. We are thrilled and excited!"

Ps Michael Norwood, The Life Church of Memphis, TN, USA,
www.thelifechurch.com
"Mike, it was great to meet you at the sharing show and to do business with you. Our new lectern is in pride of place in the front of our Church ready for the Word of God to be fed to our people. Thank you so much for your helpfulness in packing and delivering our item at the show. It was so easy to put together."

Ps Pete Cunningham, Shoreline Church, Southport, UK.
www.shorelinechurch.co.uk
"Just to let you know the lectern arrived safe and sound. It was easy to put together and looks just great. For me the 70cm is the way to go - in fact, it's the perfect size."
Ps Myles Coulter, Russell Park Baptist Church, Bedford. UK.
www.russellpark.org
"Everyone thinks it looks great...and exceeded expectations. Thanks for all your help."

Andrew Jenkins, Newport Gate Church, Newport, South Wales, UK
"We recently purchased an Arc lectern from you. We liked it so much, we would like to order another one." 

Thea Klaus, Shofar Christian Church, London, UK.
http://www.shofaronline.org
"I'm Seungkwon in Manna Methodist Church. Today we got the most beautiful products in the world from you. As soon as I got I asked one guy who works in our church as an engineer to assemble them. And in just 5 minutes he made it. All the church members were full of admiration of their simple but beautiful shapes when they saw them. I really want to thank you for making and sending such a beautiful lectern and table. Each one will be one of our church's specialties to every visitor. Actually every year many people visit our church and see our various kinds of worship services. From now on your beautiful products will be introduced to all of them with pride... Thank you again, God bless you, From Seungkwon."

Seung Kwon, Manna Methodist Church, Kyungki-Do, Korea
"We do love our new lectern! It suits our needs perfectly and it has proven very functional for both adults and children to use. We had some children read scripture on Christmas Day and having the plexiglasss lectern worked well. What we had used previously would have dwarfed them. It is very easy to move for one person, making our entire stage more functional. Shipping the product from Australia was quick and without any issue. When a new part needed to be replaced, you handled it quickly and we had our new piece in a very short time, with no problems. Around the world does seem like next door nowadays! Thanks again for serving us so quickly and with such care. We are delighted with our new lectern and table and would recommend it to anyone!"
Shirley Drost, Helps Director Koinonia Christian Fellowship, Canada,
www.kcf.org