Replacement Lectern Tops
Replacement top for Arc2 - 70cm/28" wide- AR Film - Mic
About this top:
1. 70cm/28" wide (not 60cm/24" wide)
2. Has
Anti Reflective Film
on it (not like a clear window) with microphone inputs. What is anti reflective film?
Click here to find out.
3. For Arc2 (newer) pulpit.
This means that the badge at the top is 2.5" / 6.3cm diameter.
(The badge is the shiny disk in the middle of the top with 'PROCSON NEW GENERATION PULPITS' on it)
4. Only buy this if you have the Arc2 with microphone mounts.
More information:
We know that accidents happen. In the unlikely event that your pulpit top is broken or damaged, you can purchase a replacement top. The top comes with a tool to change it over.
Regular tops are very quick to change over. However, because this is for the Arc2 with microphone mounts, it is not quick and easy. It takes some time and requires some skill to change the top.
In more detail
This is a replacement top for the Arc2 with Microphone mounts. Your pulpit needs to have microphone mounts to buy this top.
Replacement top for Arc2 - 70cm/28" wide- AR Film - Mic

Freight
Freight Prices
| | | |
| --- | --- | --- |
| | To NZ | To NZ-Express |
| $0-100 total order | NZD $40 | NZD $50 |
| $100-500 total order | NZD $70 | NZD $90 |
| $500+ total order | NZD $100 | NZD $150 |
Freight Times
| | |
| --- | --- |
| | To NZ |
| Standard air freight | 4-7 days |
| Express air freight | 2-4 days |
- Orders are sent every Tuesday and Friday. This will affect the freight time.
For example, if you order on a Friday afternoon, your order may not go out until the following Tuesday.
- NZ customs is normally very quick, but it may occasionally take extra time to clear customs.
- Freight times are a guide only. Actual times may vary.

You might be interested in...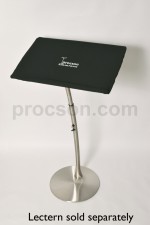 About this pulpit cover - 70cm/28" wide:

Most damage is caused when the preacher is NOT using the lectern!
The cover helps to keep the top free from dust and scratches when it's not in use. Most churches order these covers as they can prolong...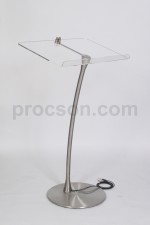 About this pulpit with microphone:

This is the Arc2 pulpit for sale with minimalist microphone mounts.
The mounts allow you to have one or two microphones or a microphone and a light. It took us 5 years of trying different solutions to find the...