Contemporary Church Furniture
Arc Water Table with anti reflective film
About this Arc water table:
Most churches that purchase the Arc2 pulpit also purchase this table.
This table is designed to suit the Arc2 pulpit. It is to be used for a water glass, jug, laptop computer, props and other resources like books and CD's. This table is 70cm (28") high rather than a normal coffee table which is 44cm (18") high. This means that items are within easy reach of the preacher, without being so high that items are distracting. It is made from stainless steel with a clear perspex top. This table is often used for television broadcasts. This table has anti reflective film applied to the top.
More about this Arc water table:
The anti reflective film is important if the table is being used is a projector screen is behind the preacher.
It prevents light reflecting off the table top onto the screen. You can test for this by turning on your stage lights and holding an old style (shiny) CD case where the tabletop would be. If you get unsightly reflections, you will need the film.
Click here to learn more about anti reflective film.
Easily carried with one hand. Assembly required, tool provided.
Proudly Australian made.
Arc Water Table with anti reflective film

Freight
Freight Prices
| | | |
| --- | --- | --- |
| | To NZ | To NZ-Express |
| $0-100 total order | NZD $50 | NZD $75 |
| $100-500 total order | NZD $70 | NZD $90 |
| $500+ total order | NZD $100 | NZD $150 |
Freight Times
| | |
| --- | --- |
| | To NZ |
| Standard air freight | 4-7 days |
| Express air freight | 2-4 days |
- Orders are sent every Tuesday and Friday. This will affect the freight time.
For example, if you order on a Friday afternoon, your order may not go out until the following Tuesday.
- NZ customs is normally very quick, but it may occasionally take extra time to clear customs.
- Freight times are a guide only. Actual times may vary.

You might be interested in...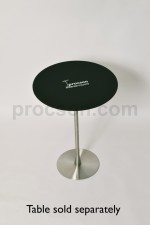 About this pulpit cover for Arc water table:

We have discovered that most damage done to clear lectern and table tops is caused when the preacher is NOT preaching!
A cover will help to keep your table top scratch and dust free in between use....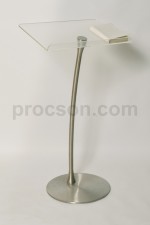 About this church pulpit for sale:

This is the Arc2 pulpit with anti reflective film.
The minimalist, sleek and elegant design of this lectern has made it Australia's best selling modern church lectern. The anti reflective film stops...